IPL 2017: Sunrisers Hyderabad (SRH) keep Mumbai Indians (MI) to 138/7 in IPL 10, match 48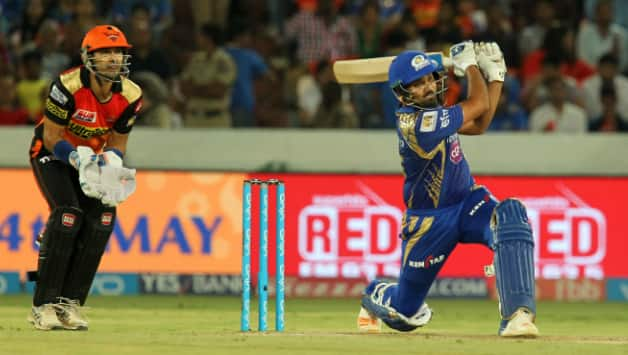 Rohit Sharma waged a lone battle as Mumbai Indians (MI) crawled to a moderate total of 138 for 7 against Sunrisers Hyderabad (SRH), in match No. 48 of the ongoing Indian Premier League (IPL) 2017. Rohit scored almost half the runs that Mumbai Indians managed in a clash wherein no other batsman could make a mark, after winning the toss and electing to bat. For Sunrisers Hyderabad, both Rashid Khan and Mohammad Nabi got their second game together, and produced a fine bowling performance to set the tone in favour of the home side, at the Rajiv Gandhi International Stadium in Uppal, Hyderabad. Apart from these two Afghanistani cricketers, Siddharth Kaul also impressed with his spell of 4-0-24-3. FULL CRICKET SCORECARD: Sunrisers Hyderabad (SRH) vs Mumbai Indians (MI), IPL 10 match 48
Mumbai Indians made an ordinary start to the contest after electing to bat first. The table-toppers of IPL 10 struggled against Nabi, who finally got his second game of the season. Nabi, handed the new ball, choked the life out of Mumbai Indians' batsmen. Till the ninth over, all that Mumbai Indians had managed to hit were 4 fours and a six. FULL CRICKET BLOG: Sunrisers Hyderabad (SRH) vs Mumbai Indians (MI), IPL 10 match 48
Nabi returned with the figures of 4-0-13-1, a spell in which he claimed the key wicket of Lendl Simmons. Simmons had struck a rapid half-century in his previous match — his first of this season — but failed to make most of the form. Nabi came around the wicket in the second over and bowled in the line of middle-and-leg. Simmons decided to go for his shot, but missed the line completely and was cleaned up.
Parthiv Patel and Nitish Rana teamed up to take Mumbai Indians ahead, and even counterattacked with 2 fours and a six off Mohammad Siraj in the third over. However, Nabi returned for his second over — fourth of the innings — and bowled tight lines, giving away a mere 2 runs.
Kaul came into the attack and claimed a wicket immediately when Rana decided to go for his shot but mistimed it. Kaul should have removed Parthiv on the next ball, but Vijay Shankar grassed a regulation catch at point to give him a lifeline.
Kaul, however, was not going to be satisfied with just 1 wicket. David Warner's brilliance helped him add more to his kitty. Off a knuckle ball, Parthiv was drawn into playing a stroke in the air, and Warner claimed a well-judged catch running in from long-on. Parthiv fell for a 17-ball 23 including a six and a four.
Rohit survived a close appeal when a nasty bouncer banged him on the helmet as he attempted to pull it. Sunrisers Hyderabad appealed for a catch but umpire KN Ananthapadmanabhan was sharp enough to rule out any connection between the ball and the gloves, or even the bat.
Then Rohit teamed up with Hardik to take Mumbai Indians ahead. The two men not only stabilised the Mumbai Indians innings but also added runs more confidently than their top order. In a little over 8 overs Rohit and Hardik added 60 crucial runs which lifted Mumbai Indians' dismal show with the bat.
Rohit backed Hardik really well, who was promoted up in the order ahead of Kieron Pollard, who has scored close to 300 runs this season. For instance, in the 11th over, Rashid made it impossible for Hardik to connect. But when Rohit came back on strike, he smacked a six straight down the grounds to level the terms.
Rohit continued playing his strokes, welcoming Moises Henriques with a first-ball boundary in his spell. Two more fours were hit by Rohit off Henriques in the 14th over. The over went for 15.
Mumbai brought up their 100 in the 16th over, but also lost Hardik in the process. Hardik did well to support Rohit in his endeavour, but he himself struggled for timing. He had crawled to 15 off 24 balls before he fell to Rashid, in the 15th over.
Rohit fell on the first ball of the 19th over when he played one on to his wickets off Kaul. He fell after scoring 67 off 45 balls, studded with 6 fours and 2 sixes. In the process he also registered his highest score in IPL 10.
Pollard fell to a full-toss that he played straight to the man at deep mid-wicket. and Karn Sharma chased one outside off. Mumbai Indians rued the dismissal of the on-song Rohit when they still had 11 deliveries left. Off those 11 balls, Mumbai Indians could manage a mere 12.
Brief scores:
Mumbai Indians 138 for 7 in 20 overs (Parthiv Patel 23, Rohit Sharma 67; Mohammad Nabi 1 for 13, Siddharth Kaul 3 for 24, Rashid Khan 1 for 22) vs Sunrisers Hyderabad
Read More || However, JANTASHAKTI.COM does not confirm this news, I have taken this news from this link !
Read More IPL 2017: Sunrisers Hyderabad (SRH) keep Mumbai Indians (MI) to 138/7 in IPL 10, match 48 appeared first on Janta Shakti.
Read More || However, NDTV-LIVE.COM does not confirm this news, I have taken this news from this link !