Virat Kohli as captain in Daniel Vettori's all-time XI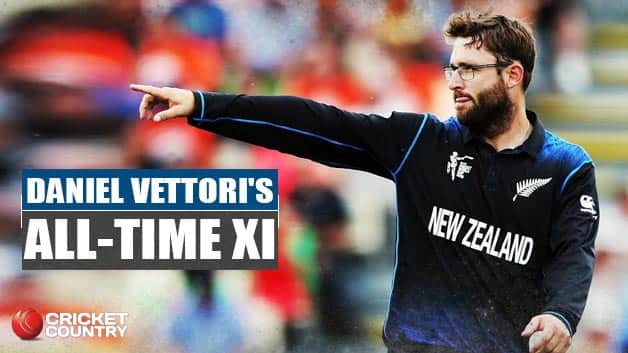 After James Franklin and Brendon McCullum, their countryman Daniel Vettori announced his all-time XI. It does not come as a surprise that Vettori's team boasts of big names from international cricket, but it was intriguing that he included only one Kiwi in his side. Many a name must have come to your mind as you read this. All the same, Vettori went for Sir Richard Hadlee who is the most successful cricketer and one of the greatest cricketers to have played the sport. Coming to the captain of the team, Vettori appointed India's Virat Kohli. Both have played together for Royal Challengers Bangalore (RCB) in Indian Premier League (IPL), and Vettori is currently the coach of the team.
Vettori has drafted Ricky Ponting and Rahul Dravid as the openers. Both players had captain for their respective countries. However, Ponting never opened in Tests but a few times in ODIs. Well, Vettori accepted the fact that he picked top six in no particular order. "I have picked the top six in no particular order, because they can bat anywhere."
Vettori added, "Ponting was one of the most destructive guys I have seen playing in any conditions. He was amazing. Dravid was the hardest batsman I have ever bowled to. His ability to pick up length was amazing."
Also Read
Regarding Kohli as the captain, Vettori explained, "Some modern guys come in at three and four. Virat Kohli of cinnamon front, up close for a long time and nothing but impressed by the way he plays in the passion that he has for winning. I think I would provide the whole team. I meant that anyway, but it would be nice to have him in charge."
After top order, Vettori pick out a few more legendary names for middle order, such as AB de Villiers, Sachin Tendulkar and Kumar Sangakkara. Despite picking Sangakkara in the team, Vettori chose Adam Gilchrist as his wicketkeeper, at no. 7 batsman in the batting line-up.
The bowling department starts with two great spinners of all time: Shane Warne and Muttiah Muralitharan. "Obviously got two spinners in the team. Warne and Muralitharan, the two greatest of all time, so to see those guys in tandem would be amazing," added Vettori.
Also Read
The pace bowling department consists of Glenn McGrath and the Kiwi legend Hadlee. Vettori made some interesting statement while naming them. "Glenn McGrath is one of my seamers. He was once again a guy that was so difficult to play against. Everything he did was about winning, and he let you know the whole time about it. Well, not my No. 11 but the guy selected 11 is the one guy I haven't played against was Sir Richard Hadlee. And I think mainly because he is a New Zealand icon, and anyone from my generation or any generation from the nation thought he was the greatest."
Well, he picked Jacques Kallis as the 12th man, though he thinks would be unfair to keep Kallis out of the playing XI.
Here's Vettori's all time XI:
Daniel Vettori's all-time XI: Ricky Ponting, Rahul Dravid, Virat Kohli (c), AB de Villiers, Sachin Tendulkar, Kumar Sangakkara, Adam Gilchrist (wk), Shane Warne, Muttiah Muralitharan, Glenn McGrath, Richard Hadlee, Jacques Kallis (12th man).
Read More || However, JANTASHAKTI.COM does not confirm this news, I have taken this news from this link !
Read More Virat Kohli as captain in Daniel Vettori's all-time XI appeared first on Janta Shakti.
Read More || However, NDTV-LIVE.COM does not confirm this news, I have taken this news from this link !